Over the past 35 years, life expectancy increased more in some remote regions of Alaska than almost anywhere else in the United States, according to detailed new research published this week in the journal JAMA Internal Medicine.
The numbers are striking: In 1980, the average life expectancy of a person born in the North Slope Borough was just 65, on par with places like Sudan and Iraq today.
By 2014, a baby born in the same region could expect to live more than a decade longer, to an average of 77 years.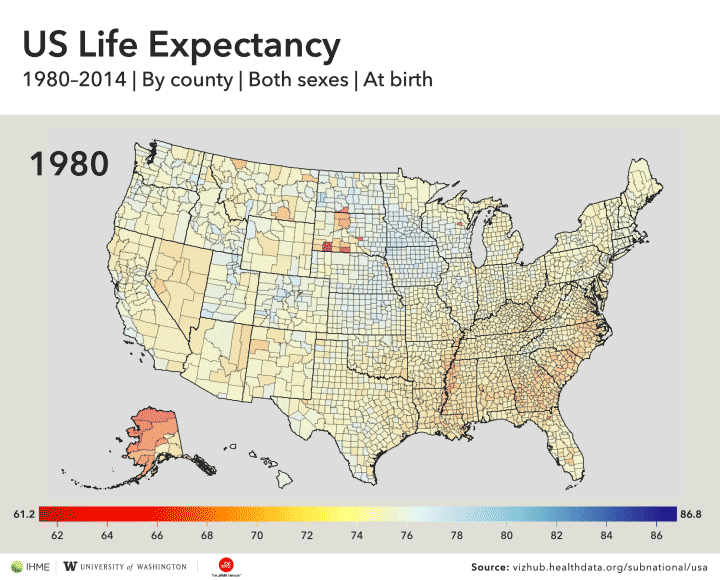 In the Aleutians East Borough, home to communities such as King Cove and Sand Point, life expectancy rose 13 years during the same time frame.
Researchers say the gains are reason to celebrate, and represent years of work to improve health infrastructure in parts of Alaska that used to have little access to medical care.
But longer life expectancy in places like the Slope and Aleutians are only part of the story, researchers say. Today, research shows large and widening geographic disparities in how long Alaskans live.
Vast improvement
Part of the reason the life expectancy increase has been so stark  is Alaska was far behind to start with, said researcher Ali Mokdad, a global health professor at the University of Washington's School of Public Health and one of the study's principal authors.
In the early 1980s, the life expectancy of people in primarily Alaska Native communities in Northern and Western Alaska ranked among the lowest in the country.
Since then, "there has been tremendous success in improving the access to and quality of medical care," Mokdad said.
Significant progress has been made in decreasing the premature deaths that impact life expectancy rates, said Dr. Ellen Provost, director of the Alaska Native Epidemiology Center at the Alaska Native Tribal Health Consortium.
Statewide, deaths from unintentional injuries and accidents among Alaska Natives decreased by 43 percent from 1980 to 2013, said Ian Blake, a biostatistician with the center. Pneumonia and influenza deaths dropped by 50 percent in the same time frame, and deaths attributable to heart disease 30 percent.
Much has changed since the early 1980s: There's more local health infrastructure in villages, from community health aides to injury prevention teams to potentially lifesaving supplies such as smoke detectors and life jackets, Blake and Provost said.
Drownings are way down. Efforts to extend running water and sanitation systems to villages have led to fewer deaths from infectious disease.
"There's increased sanitation, better access to clean water for hand-washing so infectious disease doesn't spread through a village the way it did back then," said Blake.
But there's a long way to go. To increase life expectancy, Alaska has to get control of the major factors that drive early death, Mokdad said.
"Smoking, obesity, blood pressure, diabetes. These are the major things."
Disparities remain
The UW researchers used death certificate data to break down life expectancy and mortality on a county-by-county basis, the most local measure possible. In Alaska, it's broken down by boroughs and census areas.
A statewide life expectancy estimate masks big differences between smaller geographic areas, Mokdad said.
Overall, the life expectancy in Alaska is 78, Mokdad said. The nationwide average is 79.
But life expectancy varies within Alaska by almost a decade in some places, underscoring deep inequalities.
Big swaths of Interior and Western Alaska have a life expectancy below the state and national average, while people are living longer in much of Southcentral, Southeast and the Aleutian Chain.
"If you look at Fairbanks, life expectancy is higher than the U.S. average," Mokdad said. "You go to Western Alaska — it's like 70. Nine years within the state. There are huge disparities."
One area of the Yukon-Kuskokwim region, the Kusilvak Census Area, ranks among the lowest in the country for life expectancy, at 70 years, near a handful of counties in North Dakota, South Dakota and Florida.
Kusilvak is the poorest census area in Alaska, and one of the most impoverished in the country.
"Where we are right now," Mokdad said, "many parts of Alaska don't fare well compared with many places in the United States."